Saturdays 3:00, 4:15, 5:45 and 7:00
Sundays 10:00,12:00,1:15,2:45, 4:00
Party Times and Prices
Birthday Parties in Brampton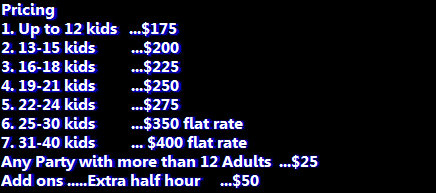 No gymnastics experience needed

905 793 3648
Book about one month ahead!
email: gymgiants@bellnet.ca
Booking a large party is no problem we can accomodate up to 100 people with 3 party rooms and large lobby viewing area available for a big group.
Large Party Bookings
12000 sq ft Olympic Gym
Trampolines in ground
6ft deep Foam Pit
Flying Hot Dog
Air Bouncers
Super Spring Floor
Tumble Track
Party Rooms
Bars
Balance Beams
Climbing Blocks and Inclines
Full Olympic Facility
Two hour parties with the first hour and a fifteen in the gym ,then 45 mins in a party room. We supply all cutlery, plates, cups napkins. You supply the food. There will be two coaches assigned for your party which will guide the children through a variety of games and trampolines activities. Parties can accomodate all ages from 3 to 16 years old.



Call now and reserve a spot!